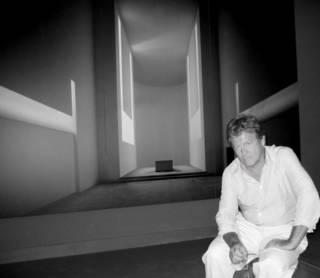 SEEN AT THE VENICE BIENNALE OF ARCHITECTURE # 8
BRITISH PAVILION - JOHN PAWSON
NOVY DVUR MONASTERY
John Pawson is one of nine architects whose work is showcased in the British Pavilion. He exhibits his new extraodinary Cistercian monastery of Novy Dvur in Bohemia, an on going project since 1999. His interest in food is well know and documented in the book which he wrote

Living

and Eating

(with Anne Bell

-

Ebury Press 2001) - it was voted the best cook book of the year.
Among Mr. Pawson's favorite foods are risotto "though I'm not very good at making it", turbot and vanilla
.
Food writing seems to be a definite trend in the past few years - in fact we have architects writing about Food and Living and we have former chef -
Anthony Bourdain
that searches the globe for the perfect meal -
A Cook's Tour
(Bloomsbury 2002) and we have writers -
Diane
Mott Davidson
that write about catering, murder and mouthwatering recipes -
Double Shot
(William Morrow 2004) and we have a photographer/designer and miscellanist -
Ben Schott
that write about irrelevant food trivia -
Schott's Food and Drink Miscellany
(Bloomsbury 2003) etc. etc....
Now going back to Venice where John Pawson was photographed in front of the gigantic photo of the inside of the monastery church - was he meditating his next cook book - out next year - in collaboration with the Cistercian monks?
all books are available through
www.amazon.co.uk
Pin It